Ready for your offroad trip of a lifetime!
Are you looking to go off-road camping with family or friends? Road-trip coast to coast? Then you will need some well built trailers which can withstand the outdoor environment of Australia.
We have the perfect solution for you, our purposely built off-road campers and caravans are here for you.
We have invested countless hours into research and development to bring innovation to life, our goal is to provide the best service for our customers, and last but not least, we guarantee the lowest price!
Warranty – Industry leading 3 year chassis warranty plus 12 month structural warranty.

Quality- We believe that it is absolutely essential to deliver the finest quality products to our customers and dealers. Commitment– After delivery, our service, support and effort to continue with fast communication and speed follow-ups.
Brian Reynolds
Bought the WildKat14
Very happy with the purchase. First time I saw the van I drove it 2000 miles back to my hometown , stopping along the way. Comfortable to drive and sleep in. Now I use it whenever I can. Easy to set up and break down, although I admit being one person I have not converted it to the seating area yet. The awning works great, just a little bit of effort setting it up the first time. If you're short, things may be trickier. It was exactly what I'm looking for. Small, so easy to park in a normal spot or use as a car. But you still have the full size bed, refrigerator, etc.
Rose Smith
Purchased Caravan Navigator 13
We purchased our first caravan Navigator 13 two weeks ago and couldn't be happier! We are Sydney and made the entire process simple and efficient. From our first inquiry to actually picking it up, it was all done remotely and couldn't have been any easier! Though doing business "sight unseen" was a bit disconcerting, there were no major issues. There were a couple of minor issues, but they were handled by Apache Caravans quickly and without fuss (thanks Adam). We drove our caravan home and thoroughly enjoyed the drive. So I'm looking forward to camping trips this spring and summer. The Navigator 13 is exactly what they said it was. That means a lot to us!. So happy we found Apache Caravans. Thanks to everyone!
Mike Nguyen
Purchased my TopGun 13
I purchased my TopGun 13 just last week. John Houridis was not only a wonderful person to work with but extremely helpful. John made my purchase a very smooth and easy process. My purchase was delayed due to covid as I had one of these in mind over a year and a half ago and was planning on dropping by in person back in 2020 but due to covid had to purchase without an actual visit just this past month. I have to say that purchasing one of these beautifully designed and constructed caravans without having kicked the tires was just exactly perfect due to John's communication over the past year and a half. Thanks John! I highly recommend John and the whole team at Apache Caravan if you are looking for a well designed and engineered RV. It's a real beauty! Kudos to the whole team at Apache Caravans for making such a wonderful option. Was exactly what I have been looking for and not many options out there in Australia unlike in Europe. If you're looking for a great caravan and excellent support in purchasing, this is the group to do it with! Heading out to visit my daughter in a week or so and cannot wait to travel in the TopGun! I'll be dropping by to say hi!
Darla Jones
Purchased WildKat 14
I am very happy with my recent purchase of a WildKat 14 from Apache Caravans. It has everything I was looking for in a compact, affordable, high quality caravan. A big thank you to Effi Houridis for her knowledge, experience and enthusiasm as she helped me through the process! I have never purchased a vehicle from a different area before, but the shipping process was easy and my WildKat arrived in Brisbane on time and in perfect condition! I can't wait to hit the road and go on some adventures!
Chris White
Apache Caravans! The Renegade 13
I am so glad that I found Apache Caravans! The Renegade 13 fills such an important gap in the Australia marketplace: Small, economical sleeper caravan. The product is so thoughtfully designed – From the layout and accessories to the way that the electrical/battery system is incorporated into the vehicle. It's perfect for road-trips/camping trips, but also a nice vehicle for driving around town. The 6-cylinder engine provides great gas mileage (I've experienced 25+ mpg) - Of course, the trade-off is power/giddyup, but I've found it to be sufficient. Further - The team at Apache Caravans are wonderful to work with. I had the pleasure of working with John Houridis on my order. Purchasing a vehicle remotely (I live in Moree) can be daunting, but he answered all of my questions and was super responsive. Moreover, he made great efforts to ensure I had a wonderful experience and received the finished product I wanted. I would highly recommend this product and business. Truly a pleasure!
Deena Young
Just purchased a Navigator 15
Just purchased a Navigator 15 a few days ago! We were from different city which can definitely be a hassle when buying a vehicle, but Adam helped make the process incredibly seamless from start to finish. They answered any questions we had and made the buying process truly enjoyable. We pretty heavily tested our Navigator right out the gate (1500 mile drive to bring it back home ) and it passed with flying colors. I'm excited to see many more road/camping trips in this vehicle, and that wouldn't have been possible without our salesman Adam, and the other wonderful staff at Apache Caravans. If you're looking for conversion vans but you can't spend a fortune like some people online, look no further. This is the place to go!
Reynolds Moore
We picked up our TopGun15
We picked up our TopGun15 van last Saturday. So far, we love it. We think its the perfect caravan for us. Very similar to the classic VW Vanagon. Our experience working with Effi was outstanding. She is the real deal. It took us 2 years to decide, "This is the caravan for us" and we never felt one bit of pressure. She just kept answering our questions with patience and honesty. We highly recommend Effi and the dealership. And, of course, the TopGun! So cool.
Amelia James
We absolutely loved the caravan
We absolutely loved the caravan. . It held all our belongings and then some. The queen size bed was so amazing!! . My husband and I both have back issues. We were a little skeptical of how we would feel after our first night sleeping in it. I can honestly tell you that we slept in it for 7 nights straight and never slept better! We are both in our late 50s. The bed was warm and comfortable. There was plenty of air flow if you desired or you could seal it up tightly. We both fit and never felt cramped. If you are looking for an easy, affordable and awesome way to travel —- this is it!!!! We truly loved our experience with John from start to finish! Do not hesitate to make this your vacation vehicle!! You will not be sorry.
Tina White
We are loving our Renegade!
We are loving our Renegade! My husband and I started casually talking with John a few months before we were ready to buy. He was extremely helpful answering any questions along the way, and even helped us research ways to make purchasing out of state as seamless as possible. Once we were sure we wanted to buy and locked in our deposit, John stayed in touch and sent us some progress pictures along the way. Picking up the caravan was seamless, although rainy; nonetheless, John was out there getting soaked with us, making sure we were comfortable and had a clear understanding of all working parts before setting out on our first journey. While on the road, the van is a total cruiser, the ride is smooth and comfortable and there is plenty of storage space for our little family. We highly recommend Apache Caravans, John, and the Renegade for all of your adventures!
Johna & Jerry
Looking forward to adventures in our new TopGun 13!
We had a GREAT experience with Apache caravans and are so looking forward to adventures in our new TopGun 13! John Houridis was super easy to work with and made the whole experience a pleasure from start to finish. The TopGun13 was actually our second purchase from Apache Caravans and we are now loyal customers. Their commitment to low pressure, intelligent, and customer-focused service is a breath of fresh air - and the way they give back to the community is a huge plus. We would recommend them to anyone looking for a caravan at a fair price.
Johnny Meyer
The Navigator 15 caravan
Effi Houridis greeted me and spent almost an hour showing me all about the Navigator 15 caravan--it's features, and the options for it. Then we took a test drive and I was hooked. Effi helped me think, she was knowledgeable, open, helpful and supportive. I came back the next day and pulled the trigger. Effi was again there to greet me and walked me through the process of purchase. I can't wait for my first adventure.
Rich Cooper
We bought our WildKat 14
We bought our WildKat 14 two weeks ago - so we haven't used it for any travel adventures yet - and are very happy with the vehicle and the camper upgrades. We can't wait to start traveling. The caravan is compact and well designed. John at Apache Caravans has been very helpful. We're getting a lot of interest from friends and family.
Leena Grayson
Our new WildKat 14 caravan from Apache Caravans
We're delighted with our new WildKat 14 caravan from Apache Caravans. The WildKat14 meets our desire for a RV that offers simple, well-designed camping amenities, and functions well for both everyday driving and camping. We thoroughly enjoyed working with Effi at Apache Caravans on the purchase. Effi was friendly, informative, helpful and quick to respond to our questions. We highly recommend Effi at Apache Caravans!
John & Marsha Kenny
Our new Navigator 13
Our new Navigator 13 took us home by way of Victoria and all the way to South Australia. Its creature comforts make it a real joy to drive. We can't wait to load it up with all our gear and take it for its shakedown camping cruise, exploring out-of-the-way places, national parks, and music festivals. Thanks to the Apache Caravans team and especially to Adam for putting out the extra effort to make our buying experience a genuine pleasure.
John and Effi are great to work with if you want one of these TopGun . They showed us everything about it. When we came to look at it back in September we were allowed to test drive and see the potential this van had, but after our first camping session we are so glad we made the decision to purchase it. It's so easy to use and we stayed so warm inside the caravan during a cold season camping adventure. If you want to go "glamping" like we did, reach out to John and Effi. They are awesome!!!!!!!!
Dan Mills
The process to purchase the Caravan
The process to purchase the Caravan from out of City was made seamless by John Houridis . John kept me informed and explained the process along the way. Highly recommended using Apache Caravans. Ask to work with John he has a lot of knowledge about suggesting things you might not think about needing on the Caravan
Our Hybrid Caravan models provide travellers with luxury and comfort without compromising the ability to venture off-road and beyond. The Hybrid comes in various shapes and sizes to satisfy your lifestyle and enhance your experience.
Our dealers have been in the caravan industry for a long time and come with a wealth of expertise & experience on caravans. They will work with you every step of the way to guide you through the buying process and answer any questions you have and also provide you with service you require after the purchase of your van.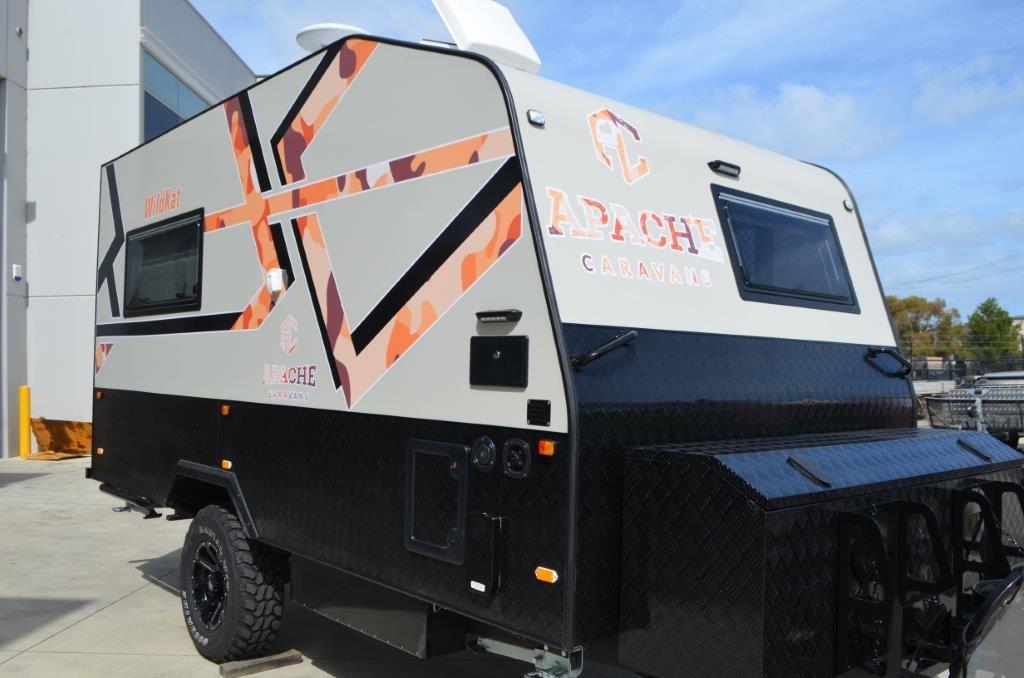 APACHE CARAVANS COMMITMENT
PROVIDING INNOVATIVE CARAVAN EXPERIENCE FOR A NEW GENERATION AND CHANGING WORLD 
Over the years, Apache Caravans has been helping families connect with nature and each other. We have facilitated countless journeys and adventures, opened eyes and helped create memories for a lifetime. 
 As proof of our long-term commitment to leading Caravan innovations, we bring you another exciting adventure exploring the uncharted territory of the future. 
 Apache Caravans  long-established innovation culture  uniquely positions us to lead the way; to create products that deliver the experience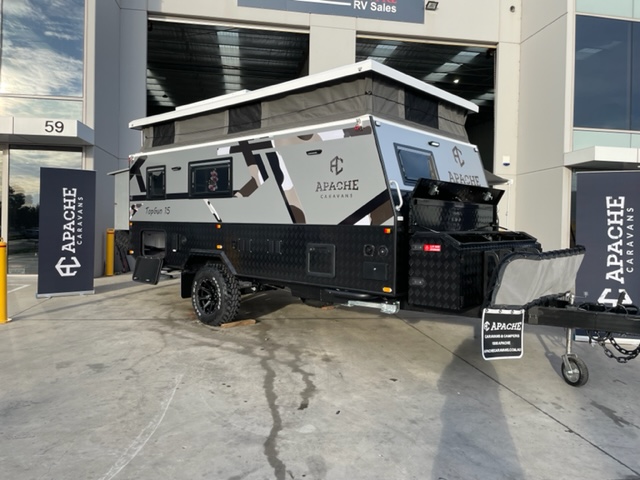 ENVIRONMENT FRIENDLY 
Preserving the health of our planet is fundamental to the way Apache Caravans are manufactured. We have a responsibility to protect our environment and  strive to conserve resources across our operations that help preserve our planet for the next generation of Caravans. Today, our manufacturing processes are more energy and resource efficient than ever, with a focus on recycling and reducing the amount of waste going to landfill.
SOCIAL RESPONSIBILITY
Mentoring and taking care of our team members by supporting them in their personal and professional goals is a priority at Apache Caravans. We do this by engaging and connecting with our team members to support their development. We continue to devote resources to developing and empowering our people. Apache Caravans is proud of the work we do in our communities as they are a valuable resource in our success. We develop our culture and organization every day.
EXTRA ORDINARY MANAGEMENT
Apache Caravans,  is committed to conducting business in accordance with the highest ethical standards. This includes acting with integrity and fairness in both our business and labor relationships. We also expect our employees to act ethically at all times and in accordance with all applicable laws. 
 We expect the same ethical standard  from those with whom we do business, including business partners, agencies and suppliers.
Apache gives you the ability to explore our beautiful country with comfort and ease.
All our caravans are built for off road & off grid camping, are easy to tow and ideal for the hard to get to places.
Although we don't claim to be the best in the market (we leave that to you!) we do pride ourselves on our customer relations and satisfaction.
Our off road caravans and camper trailers are built & designed with all the facilities you need for a great camping trip for you and your family.
Every caravan in our range including kitchen & cooking facilities, storage that will last for weeks, comfortable beds with off road capabilities that will take you anywhere in Australia. We offer exceptional workmanship and strive for excellence.
Visit our warehouse in Carrum Downs, Victoria and see our entire range of caravans and camper trailers for sale. Talk to our sales staff about some of the added options that we have as well.
Our team has both the skills and experience to assist you in all aspects of your camper trailer and caravan purchase.
Give us a call or pop into one of our showrooms we'll be happy to help you out in any way we can.
Sign up for our latest product news, promotional events and exclusive offers.